URL Extractor
Extract emails and url from files, the web and from search engines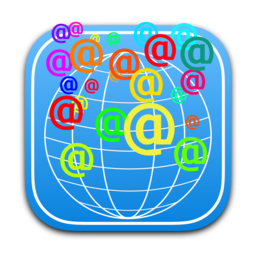 URL Extractor can be used to extract thousands and thousands of email addresses or other URLs. It can work locally, on the web, with search engines.
URL Extractor screenshots - click image to zoom
HOW IT WORKS LOCALLY
In the Local section you can specify a series of folders on your disk, file type to analyze, and kind of URL to extract It starts the extraction and show in a list, as they are collected, all the extracted urls
HOW IT WORKS ON THE WEB
In the Web section you can specify a series of web pages to start from and various extraction settings It starts the extraction from those web pages and it go also to linked one using a variable deep level It show in a list, as they are collected, all the extracted urls It can show page sources url used to extract It can use a black list of sites to never use
HOW IT WORKS WITH SEARCH ENGINES
In the Search engine section you can specify a series of keywords to use and various extraction settings It starts the extraction from the search engine using those keywords It goes from the search engine to the resulting web pages and it go also to linked one using a variable deep level It show in a list, as they are collected, all the extracted urls It can show page sources url used to extract It can use a black list of sites to never use
It can extract email address, web address, ftp address, feed, telnet, local file url and others.
Has a new modern engine using the latest Cocoa and Objective-C 2.0 technology. It never freeze, even collecting thousands of URLs using hundred of keywords via search engine. It is 100 times better then the previous release thanks to new specific 'online search code' we realized for URL Extractor 4
Can Import and export the 'web url' and the 'keywords' used to navigate and extract, from their tables. Uses a great improved import engine that automatically recognizes the imported format and allows for great flexibility in selection of what to import. You just click, it does all the work.
Extract URLs and emails from an unlimited number of sources from disk (files and folders) navigating all the content of any specified folder and subfolders.
Can extract from thousands and thousands of files in few seconds.
The source list accepts drag and drop of files and folders.

Extracts URLs and emails from the web starting from a list of web sites you specify.
Its start to extract the URLs you need and continue to navigate following found site links online in an endless navigation process, collecting URLs or emails as you like.
Extracts URLs and emails from the web starting from a list of keywords.
It uses the provided keywords list on the search engine you specify, then it starts to look for related sites, then uses the related sites to start navigate, also following found links and collect all the URLs or emails.
Providing few keywords it can extract for hours founding related (to the keywords) URLs and emails
Uses both Bing and Google (18 different Google regional sites: .com .it .fr . au .uk .de and .es .ar .au .at .be .br .ca .fi .nl .se .ch).
It can use the search engine you specify for endless search on the net. It uses your keywords as seed, then it uses that keywords to obtain results form the search engine, then it navigates the found pages, visit them, collect related links then navigate to the related links and so on, it can never stop if you like and it collect all the urls of the type you requested while it navigates.
It can do it all even unattended in the night while you are not using your Mac.
Can accept drag and drop of url from safari and other web browser to use them as seed for extraction from the web
Can use many options: 'Single domain extraction' to extract only from a specified web site without jumping to linked web sites or 'Cross navigation deep' to specify at which level it has to jump from one site to linked ones to search and extract
PDF extraction. It can extract from PDF files both locally or online. If it founds online a PDF and it contains web pages address it can even jump to that address and continue to search and extract as with web pages
It's document based. It is not just an utility, it is a full feature application. You can create a document and specify all the settings you need specifying local or remore sources or list of keywords and save them on disk.
If the content of directories changes you just press 'Extract' again and you collect all the new URLs. On the web it always changes, so running the same document for online extraction at different time always gives you new results.
With URL extractor you don't need to repeat your work, just open a previous document and launch the extraction with all your 'seed' input already in.
It can use a filter on collected URLs to collect or exclude what you need. Show the URLs 'live' as they are extracted and collected in the URLs table You see the URLs flowing inside the table as it collects them from the web using the latest amazing parallel multi-tasks technology available on OS X Can collect at different time inside the same table. Can Export at any time the collected url in text format to be used in other applications
Each url is now collected with the source url (url from where it was extracted) listed in another column
Advanced url export capabilities
Ability to specify a custom client app name to declare connecting to the servers or google
We develop for Mac from a long time. We use only Apple native technology to create macOS apps because we love the Mac and and we love pure true macOS apps
Sandboxed and Gatekeeper signed respecting all the Apple rules for first class macOS apps
Includes a full User Guide in PDF accessible under the Help Menu inside the application.
Uses Resume, Auto Save, Versions, and Full Screen.
If you quit, on relaunch you will be returned to the same state. There's no need to save, the application does it for you. Always.
You can use the Versions feature from macOS to return to an earlier version of your work.
Full screen natively supported.
Using the new Universal Binaries format running as 64 bit in full native mode both on Intel Mac and on the new Apple Silicon Mac
Optimized for macOS 12 and in Universal Format native for Intel and Apple Silicon
EFFECTIVE TO USE
URL Extractor can work attended or in batch mode extracting for hours from the web in a completely autonomous mode.
The user can watch, during extraction, the URLs filling the table as they are extracted.
Filters can be used to decide what to accept or exclude
The extracted URL will be ready to be saved on disk for later use for any purpose.
The app uses various settings that can be modified to find the right balance for any search and extraction.
URL Extractor can extract from any kind of file encoded as text, html included and also from PDF files (both locally and online)
URL Extractor uses a new extraction engine taking advantage of the latest Cocoa technologies.
DETAILED FEATURES
Can extract email address, web address, ftp address, feed, telnet, local file url and others.
Extract from any text file and from PDF
Has a new modern engine using the latest Cocoa technology
Extracts from multiple file inside folders, to any level of nesting (also thousand and thousand of files)
Extracts directly from the web cross navigating web pages in background. No user action required!
Extracts on search engines starting from keywords and navigating in all the linked pages in an unlimited navigation from one page to the successive, all this just starting from a single keyword
Google and Bing extraction from specific international google sites with url extraction more focused on individual country and language.
Url table for live web extraction
Extracts web address, ftp address, email address, feed, telnet, local file url, news and generic emails
Drag and Drop of files and URLs to process
Option for single domain extraction
Uses various country search engines .com .it .fr . au .uk .de and .es .ar .au .at .be .br .ca .fi .nl .se .ch .jp .cn
Each url is collected with the source url (url from where it was extracted) listed in another column
Advanced url export capabilities
Ability to specify a custom client app name to declare connecting to the servers or google
Black list (do not extract from here)
Import export to/from black list
Uses macOS only features as Resume, Auto Save, Versions, Full screen.
includes a PDF user guide
You are downloading a secure app digitally signed with an Apple certificate (all our new releases are also Notarized by Apple for your maximum safety) URL Extractor
Rel 4.8.1 (Aug. 11, 2022) - 7.3 MB
Requires: macOS 10.12 Sierra or successive
URL Extractor
URL Extractor
To know what's new from the previous releases CLICK HERE
SUPPORTED OS FEATURES
Tabs for managing many documents in a single window
Merge all documents in a window
Full screen
Autosave
Resume
Versions
Automatic resume
Tags in finder
TRANSACTION DATA ARE NEVER SENT TO OUR SITE.
THEY ARE TRANSMITTED ONLY TO THE RESELLER VIA A SECURE SSL PROTOCOL

FULL PURCHASE


Buy a new License for the latest release

UPGRADE PURCHASE

Upgrade to the latest release.
Only if you already have an old URL Extractor license.

FULL PURCHASE


Buy a new License

App Store doesn't provide upgrade purchase.
Major upgrade may require a full re-purchase of URL Extractor.

If you want to know more about how buying works, visit the Buy section of our site