Precise Screenshot
Screenshots as never before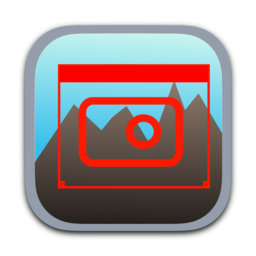 Precise Screenshot is the new generation tool to take screenshots from the screen on your Mac.
Now works perfectly also with external monitors and any additional screen attached to your Mac!
Precise Screenshot screenshots - click image to zoom
Precise Screenshot can:
Select a resizable portion of the screen with the usual drag method (also with forced ratio)
Use pre-fixed size area from a customizable popup menu
Input the required x,y size area via keyboard
Use the full screen area
Optionally capture also the menu bar
move the grab area 1 by 1 pixel
Use a timer
Save in many ways and with custom formatted name
It allows to work in:
'Desk Frame' mode, selecting any portion of the work area
'Include Menu' mode, magnetically attached to the menu and always including the above portion of the menu bar area on your screen
'Full Screen' mode, taking the full screen
It allows to have a screenshot frame capturer optionally always floating and have it with pass through click or not (letting you click and interact directly with other applications under the capture area or not)
Precise screenshot offers a series of commands to make tedious tasks easy to do:
Specify a new specific screen size to take screenshot with high precision
Custom popup menu for resizing the grab area
Resizing and dragging by mouse in a traditional way
Screenshot frame area shows it's size and position in the upper side border.
Screenshot grab area can be moved and resized with precision 1 pixel by 1 pixel.
Can take shot immediately or using a timer
It can works even when in background using a status menu
It offers also a useful tool palette with all the setting controls.
It can work also in background, taking screenshots using an additional menu always available when in background (to take screenshot when other apps are in foreground)
Can take the screenshot instantly or using a timer
It allows to save on file or in the clipboard
Great control of the name automatically assigned to the screenshot saved on disk. You won't need to rename them, Precise Screenshot assign them the name you really need to work.
It shows (if you like) a preview of the latest screenshoot
Always show in the frame the size of the screenshot you are going to take because size does matter with screenshot and Precise Screenshot allows to take them in a precise way.
Exceptional control over screen size. No other tool allow to work in that way. It allows to control the screen size pixel by pixel and even use a list of preferred screen size
Visual feedback for timer and when taking screenshots
Custom shot size sorted by area
Optional Alpha channel used saving pictures
Optional audio feedback with selectable sound
Optional center cross in the screen grabber area
Native Intel 64 bit to take full advantage of the power of the latest Macs
We develop for Mac from a long time. We use only Apple native technology to create macOS apps because we love the Mac and and we love pure true macOS apps
Sandboxed and Gatekeeper signed respecting all the Apple rules for first class macOS apps
Includes a full User Guide in PDF accessible under the Help Menu inside the application.
Optimized for macOS 10.14 (Mojave).
Works perfectly both in Light Appearance and Dark Appearance mode
More:
Save to the clipboard (with the picture immediately available for use) or to disk in selectable custom places.
Save to disk in JPG, PNG, TIFF format.
Save with/without alpha channel (for transparency)
Can force any size ratio for the capture area and resize it in accordance.
Optionally alway float all over the other applications with the Shot Selection area.
Provides a contextual menu for 1-click commands over the Shot Selection area
Provides visual and sound feedback of screenshot with selection of sound to play.
Can use a custom file name using meta-tags, with serial number (automatically increased) and or using date elements (Year, Month, Day, Hour, Minute, Second)
Custom color for the capture frame
Screenshot previews in a floating window
Fully sandboxed offering the maximum protection level combined with the maximum flexibility
Works perfectly also with external monitors and multiple screens attached to your Mac if recognized by macOS.
Perfectly compatible with both Light Appearance Mode and Dark Appearance Mode under macOS 10.14 Mojave and successive
The user can modify any setting at any time, also in the middle of the work as required by different situations.
Precise Screenshot offers also a preview of the latest screenshot in a floating palette.
Optimized for macOS 10.14 (Mojave).
Runs on any Mac with macOS 10.10 (Yosemite)
It's small, fast and full featured, it has all you need for a precise and perfect work
Embedded PDF User Guide included accessible via the Help menu.
FULL PURCHASE


Buy a new License

All Upgrades are free for same major release.




If you want to know more about how buying works, visit the Buy section of our site