Multi Counter Pro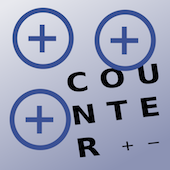 Multi Counter Pro allows to count a discrete number of elements of different kinds in a single screen using your iPhone or iPad to avoid any error. Our app is a must when you have to count multiple different things and you need a precise result With color tags, sound feedback and other features you can be be confident you will avoid any mistake
Multi Counter Pro screenshots on iPhone - click image to zoom
Multi Counter Pro screenshots on iPad - click image to zoom
EASY TO USE
The list shows all the rows you inserted with an independent counter for each one
To add or subtract a value to a counter simply touch the + or - button in the relative row
Possibility to create how many counters you need assigning a custom different name to each
Custom Color Tag for any counter to visually differentiate them in a better way
You can re-arrange rows order at any time
You can add and remove counters at any time
In the details view you can subtracts and reset elements and change the name at any time
Counter adapts to the size and orientation of your devices from the smallest iPhone to the larger iPad
Solves any kind of situation where you have to enumerate a total number of elements (physical of abstract) and you want to be sure the process will be error free.
Simply and effective to count multiple kind of different items and avoid errors
Clean minimal and effective interface

We use only Apple native technology to create iOS apps because we love the Apple platform and and we love pure true iOS apps.
FEATURES
Uses multiple rows, an independent counter for any row
All editable at any time
Color tags for a better visual differentiation
Add with a touch in the row on the + button
Subtract with a touch in the row on the - button
Add/delete/change how many rows you need
Custom name for any row
Custom start value for any counter
Optional confirmation request of any add and subtract or reset operation
Optional audio feedback for any unit you add (so you are sure you accomplished the addition when you want to do it).
Keeps the value counted over relaunch until you decide to reset it.
Gives you confidence you didn't make mistakes in counting any kind of discrete elements (specially when counting them exactly is mandatory).
ALL THE POWER OF iOS
Requires iOS 9 or successive
Optimized for iOS 14
Works both for any iPhone and any iPAD, any screen size and both in portrait and landscape orientation
Optimized for the latest generation iOS devices
To know what's new from the previous releases
CLICK HERE
Multi Counter Pro
Rel 1.0.1 (April 16, 2021) - 1.0 MB
Requires: iOS9

To know what's new from
the previous releases
CLICK HERE

If you want to know more about how buying works, visit the Buy section of our site