Car Manager Pro
The iOS app to manage your car.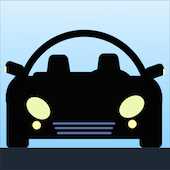 Car Manager pro is an app to manage your car. You can manage as many cars as you like using your iPhone or iPad
For any car you have a separate management of all the operations of refueling and maintenance regarding oil, water, tires, wipers, breaks, filters, battery, lights, and others.
For many operations you can set schedules, based on mileage or time (the first expiring or the last) or a specific date and have the app inform you it's time to perform a determinate operation such as checking water or oil or breaks, based on the current odometer value or time.
The app uses a colored badge to indicate where a schedule is expired and an operation required ,as example checking oil because you didn't checked it from 5.000 Km (or Miles, according to your preferences and what you set in your schedule) or because you didn't checked it from 30 days.
Car Manager Pro screenshots on iPhone - click image to zoom
Car Manager Pro screenshots on iPad - click image to zoom
For various possible schedule you decide the value to use to trigger warning to perform operations on the cars. You can set different values for different cars, if you manage more then one car inside the app.
This app is useful for all the drivers who often forgot to execute all the required checks on time or for who really like to plan and keep all under control regarding his own cars.
Fuel operation to record refuelling with odometer and cost of operation
Oil operation record
Water operation record
Tires operation record
Wipers operation record
Breaks operation record
Filters operation record
Lights operation record
Generic operation record
Personalisation of car data for any managed car. You can manage as many cars you like.
Report of all the performed operations.
Report of expanses for months and years.
Schedule for operations and warning when one expired and need to be performed.
Schedule can be set based on time or procurance or both.
Preferences allow to set you all the parameters you need to manage your car according with your country settings and preferences.
An help page is constantly available.
Battery operation record
We use only Apple native technology to create iOS apps because we love the Apple platform and and we love pure true iOS apps.
The app can also inform you with sum of expanses for refueling and the other operations on a monthly and yearly basis
The user can select in the preferences between Km and Miles for distance, Liters or Gallons, Kg or Lbs and currency symbol to use for expanses.
A short Help that you can read in 2 minutes is included within the app.
To know what's new from the previous releases
CLICK HERE
Car Manager Pro
Rel 1.0 (Nov. 20, 2014) - 1.0 MB
Requires: iOS 8

To know what's new from
the previous releases
CLICK HERE

If you want to know more about how buying works, visit the Buy section of our site